Scroll down to learn more about the candidates bringing the Blue Wave up and down the ballot.
Federal & CD
U.S. President:
Joe Biden
As a Senator from Delaware for 36 years, Vice President Biden established himself as a leader in facing some of our nation's most important domestic and international challenges. As Chairman or Ranking Member of the Senate Judiciary Committee for 17 years, then-Senator Biden was widely recognized for his work on criminal justice issues, including the landmark 1994 Crime Act and the Violence Against Women Act. As Chairman or Ranking Member of the Senate Foreign Relations Committee for 12 years, then-Senator Biden played a pivotal role in shaping U.S. foreign policy. He has been at the forefront of issues and legislation related to terrorism, weapons of mass destruction, post-Cold War Europe, the Middle East, and Southwest Asia.
As the 47th Vice President of the United States, Joe Biden has continued his leadership on important issues facing the nation and has represented our country abroad traveling over 1.2 million miles to more than 50 countries. Vice President Biden has convened sessions of the President's Cabinet, led interagency efforts, and worked with Congress in his fight to raise the living standards of middle class Americans, reduce gun violence, address violence against women, and end cancer as we know it.
U.S. Senate:
John Hickenlooper
John Hickenlooper began his career as a geologist and later opened a series of restaurants and brewpubs across the country, including the Wynkoop Brewing Co. in downtown Denver, which helped spark the revitalization of the city's now-thriving Lower Downtown ("LoDo") district. He served as the mayor of Denver, Colorado, from 2003 to 2011 and as Governor from 2011-2019. As Governor, Hickenlooper and his team have championed innovation, collaboration and efficiency, working to ensure that Colorado and its business-friendly climate is one of the most desirable places to live, work and play. We're excited to get him to Washington and to send Trump crony Senator Cory Gardner back to Yuma.
2nd Congressional District:
Joe Neguse
As a 36-year-old son of refugees from Africa, Joe is not your typical Congressman. But his family's story, and deeply held belief that we need people from all walks of life to speak up and engage in our democracy, motivated him to run for office and fight for Colorado values in Washington D.C.
Joe was elected in 2018 to represent the 2nd District in the U.S. House of Representatives, becoming the first and only African-American elected to serve in Congress in Colorado history. He is the youngest member of Colorado's congressional delegation, and serves as a Vice-Chair of the Congressional Progressive Caucus, a Vice-Chair of the Medicare-for-All Caucus, and was elected by his peers to be the Freshman Co-Representative to Leadership. In that capacity, he serves as a member of the House Democratic Leadership.
In Congress, Joe has worked tirelessly to serve the people of Colorado and work collaboratively to solve the most complex challenges of our time. In early 2019, he was recognized nationally for hosting the most town-halls of any freshman lawmaker in the U.S. —receiving the "Spirit of Service" award for a successful Service Town Hall initiative that combined constituent services with volunteerism — and in 2020 was recognized by the Lugar Institute as the most bipartisan member of Colorado's House delegation. He introduced 38 bills in the 116th Congress — the most of any freshman member — and had four of his bills signed into law (the most of any member of Colorado's delegation).
4th Congressional District:
Ike McCorkle
Ike McCorkle is a retired Marine Corps Officer & Special Operator. He is a single father of three kids in Douglas County public schools. Ike retired from the Marines in 2014 to be present in his kids' lives and to recover from eighteen hard years of service in the USMC Infantry and Spec Ops communities. He hoped to take up gardening and other hobbies centered around colorful Colorado life, but the call to service rang again. To serve his kids, and your kids, Ike is answering that call.
Ike McCorkle is running in Colorado's 4th Congressional District against incumbent Republican and corporate-sponsored poster-boy Ken Buck. Coloradans and all Americans deserve representation that serves the people, not just the elite. Colorado's 4th deserves more ethical representation.
CU Regent CD-2:
Callie Rennison
Callie has devoted her 20+ year career as a criminologist to solving problems and supporting those around her, first as a statistician at the Department of Justice in Washington, DC, and later in higher education, she has tackled thorny issues related to violent victimization, especially its effects on victims. Today she is a tenured professor in the School of Public Affairs at the University of Colorado Denver, the system's most diverse campus. Callie will bring an important perspective to the Board of Regents. She worked her way through college as a first-generation college student and is a proud Houston Community College graduate. She then earned a B.S in Psychology, an M.A. in Sociology, an M.A. in Political Science, and ultimately a PhD in Political Science from the University of Houston.
From Houston, she moved to Washington DC and served as a statistician in the Department of Justice during the Clinton and Bush administrations before transitioning into higher education. She believes as a CU Regent, she can continue solving problems and serving others.
State SD & HD
CO State Senate District 17:
Sonya Jaquez Lewis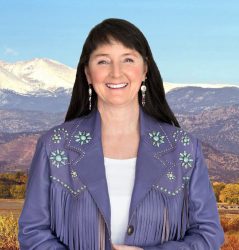 Sonya has lived in Boulder County for over twenty years and is part of the "Hispano", Hispanic families from the San Luis Valley in Southern Colorado whose roots in our state go back hundreds of years. She graduated from UNC at Chapel Hill School of Pharmacy. Sonya is a licensed pharmacist and owns a small business which consults on clinical trials. She is also the former Medicaid Pharmacy Director for Colorado Access where she worked helping to establish the Child Health Plan Plus (CHP+) which has helped tens of thousands of children gain access to healthcare providers, prescription drugs, vaccines, and mental health treatment.
In addition to her career in healthcare, Sonya has also served in leadership positions on numerous nonprofits and volunteer organizations. She served for seven years on the Boulder County Board of Health. While on the Board, she voted for the first Boulder County fracking moratorium which kept oil and gas out of Boulder County for five years. After the 2013 flood, the board helped fund housing assistance for families impacted by the 2013 floods and animal assistance for abandoned pets. Sonya is the former president of Boulder Pride, now Out Boulder, and has been a lifelong LGBT activist. She has served in the Colorado House of Representatives since January 2019.
CO State Senate District 18:
Steve Fenberg
As a passionate progressive, Steve fights not just to create a better planet, but also to improve the lives for all of us who inhabit it. Middle class Coloradans and their families are struggling to get ahead. The middle class is squeezed with higher education choices that are not affordable and little security for their future. Our state needs to invest deeper in public schools and higher education in order to stop the skyrocketing tuition increases that lead to our young people graduating with crippling student debt. As someone who has spent his entire life in the middle class, Steve knows that the opportunity to create a better life for oneself is fundamental to building an economy that works for all of us. As your Senator, he has worked to increase the state's investment in K-12 education, including full day Kindergarten for every child in Colorado, and higher education. He has worked to create more affordable housing options, improve consumer protection standards, strengthen the rights of workers to collectively bargain, and allow local municipalities increase their minimum wage.
Boulder County is Steve's home and he's proud to be a part of this amazing community. Steve and his wife, Lindsay, a middle school teacher, feel lucky to live in our little 600 square ft home in downtown Boulder with their daughter Isa, and Steve is a partner of a small business, Bread Bar, which is a bar in the historic town of Silver Plume, Colorado. He's looking forward to continuing to serve as your State Senator.
CO House District 10:
Edie Hooton
As the daughter of a country doctor who helped establish one of the first Planned Parenthoods in Vermont, and a mother who was a feminist and community leader, Edie was raised with the understanding that we have an obligation to serve those in need and to actively improve the quality of life in our communities. She has carried this understanding into her life's work, in both the private and public sectors. A successful advocate for progressive candidates and causes, civic leader, and mother of two, she has focused her energy and experience on reproductive rights, access to quality education for all, and working to increase voter participation in the election process.
Edie was a legislative aide in the US Senate and the Alaska State Legislature in the 70s and 80s during a time when both parties worked together to find common ground. As a State Representative from Boulder, House District 10, she brings the same spirit of bipartisanship to the State Capitol. She serves in a leadership role as the Majority Caucus Chair and Vice Chair of the Energy and Environment Committee. She also serves on the Committees for Transportation and Local Government, Statutory Revision, and Emergency Preparedness. Edie listens to the people she represents, and knows the best solutions come through cooperation and collaboration.
CO House District 11:
Karen McCormick
Karen grew up in a career Navy family with a father that served 30 years in the US Navy retiring as a Rear Admiral. Her two brothers, mother and dad, moved every year or two during her childhood exposing her to the vast diversity of communities that are essential to the strength of our country. Through this experience Karen learned the meaning of service, respect, integrity and dedication to American values.
Karen attended college at the University of Florida obtaining a Bachelor's in Agriculture and went on to earn a Doctor of Veterinary Medicine degree. Practicing veterinary medicine for over 33 years has further strengthened her belief in the power of compassion. She ran her own successful small business here in Colorado serving the community with excellence in veterinary care for 16 years. She is a problem solver at heart and looks forward to service you as the Representative from HD11.
CO House District 12:
Tracey Bernett
A lifelong Democrat and progressive, Tracey Bernett is a computer industry expert, entrepreneur, engineer and mom from Longmont. Tracey received an engineering degree from Cornell University and a Harvard MBA. She helped lead the effort to revitalize the Butterfly Pavilion. Tracey also led the OUR Center's homelessness prevention efforts during the Great Recession, helping more than 16,000 area families get back on their feet. As a world class runner and veteran of 36 marathons, Tracey knows it takes hard work, perseverance and determination to build the world we progressives want to see. She'll carry our progressive values forward in the State House.
CO House District 13:
Judy Amabile
Having lived in the state for almost 50 years, Judy is a proud Coloradan, and passionately devoted to this amazing place and its people. Throughout her life and business career, she has helped bring real solutions to bear on significant challenges facing our communities. Her experience for this job is derived from her role as an entrepreneur, employer, mother, and hardworking community activist. In all of these roles, she has become known for creative problem solving, open-mindedness, and pragmatism.
In the last several years, important issues have become magnified for Judy and she feels drawn to serve. Her three big three areas of focus will be:
Ensuring wages for working families keep up with the costs of housing, health care, child care and college tuition.
Increasing access to mental health resources to address the staggering rise in homelessness, drug addiction, incarceration and suicide.
Acting boldly on climate change and environmental stewardship.
She is in this race to represent the values of HD13 and will bring her focus, commitment and life-long principles to work as our next state representative.
CO House District 33:
Matt Gray
Matt is a former deputy district attorney for Broomfield and Adams Counties where he prosecuted and fought for victims in hundreds of cases. Matt's practice now focuses on public finance, where he helps local governments build schools, improve roads, and secure open space throughout Colorado.
Matt is deeply committed to the local community, having served as vice-chair of the Adams County Youth Initiative and as the chair of the Broomfield Board of Equalization, which works to make sure that citizens and property owners aren't over-taxed.
Matt lives in Broomfield with his wife Katie, daughter Ellie and son Theo and enjoys running, reading, and being eternally optimistic about the Broncos.
JD & County Commissioner
District Attorney JD 20:
Michael Dougherty
After law school, Michael served for twelve years as a prosecutor at the Manhattan District Attorney's Office where he handled all types of serious felony cases, including sex crimes, hate crimes and homicides. He quickly rose to supervisory positions, including Deputy Chief of the Sex Crimes Unit, and ultimately was promoted and became responsible for the management, budget, and personnel of the District Attorney's Office (an agency with over 1,200 employees), while continuing to prosecute serious cases.
In 2009, Michael Dougherty was recruited by the Colorado Attorney General to head up the Colorado DNA Justice Review Project and was then promoted to serve as the head of the Criminal Justice Section for the Attorney General. Michael served as the second-in-command for the District Attorney's Office for Jefferson and Gilpin Counties until being appointed Boulder County District Attorney.
Michael has served on numerous groups and committees with projects leading to significant criminal justice reform, such as the Colorado Commission on Criminal and Juvenile Justice, and the Colorado Best Practices Committee for Prosecutors. For his work on a bill mandating improved procedures for eyewitness identifications, Michael received the Innocence Project's Award for Advocate for Innocence and Justice. Michael has helped establish problem-solving courts and diversion programs to help offenders get back on the right track.
County Commissioner - 1:
Claire Levy
Claire is running for County Commis-
sioner to work on three main issues:
Increase access to affordable housing by implementing the Boulder County Regional Housing Partnership.
Advance renewable energy, energy efficiency and access to non-carbon based transportation options.
Make Boulder County more welcoming to people of color and other people who are marginalized.
As a Boulder County Commissioner, Claire will work tirelessly on issues across the spectrum so that all sectors of our economy thrive and all of Boulder County's residents feel valued and included in their community.
County Commissioner - 2:
Marta Loachamin
Marta Loachamin is running to be an authentic community voice in our political process. As a Teacher, Self-employed business woman, Volunteer and Mother of 2, Marta has fought to bridge the sustainability gaps of housing, education, resiliency and economic mobility throughout Boulder County for 20+ years. Her proven role as a cultural broker positions Marta to cultivate solutions surrounding current issues that affect our families and neighbors. She is dedicated to advocate on behalf of the hundreds of people who have shared their personal stories and will incorporate those testimonies in her leadership, governance and decision making as a County Commissioner.
Marta loves Longmont and is determined to collaborate to increase opportunities for all residents. She's looking forward to continuing community conversations to hear about issues important to you in Boulder County. Join her as our county creates progress locally with a fresh perspective in local decision making.