...your "scrollable" program for the 2021 Champions of Democracy Virtual Celebration, — our 46th Annual Fundraising Event, held live on Sunday, October 3, 2021. Keep it open on another browser window as the Champions Zoom event happens. You'll find the agenda, ads from stellar Democratic and municipal candidates, profiles of our 2021 Awardees, and more. Our tradition continues... Enjoy!
---
Technical Issues? Call the Help Desk: (720) 647-5720‬  ...or Email us: helpdesk@bocodems.org‬
---
KEYNOTE SPEAKER:
Representative FOR Washington's 7th Congressional District
Pramila Jayapal

CONGRESSWOMAN PRAMILA JAYAPAL represents Washington's 7th Congressional District and is the first South Asian American woman ever elected to the U.S. House of Representatives, one of just two dozen naturalized citizens currently in Congress, and one of only 87 women of color to ever serve there. She is a Senior Whip of the Democratic Caucus, the Chair of the Congressional Progressive Caucus, and she serves on the House Budget Committee, the House Judiciary Committee, the Subcommittee on Immigration and Border Security, and the Subcommittee on Antitrust, Commercial and Administrative Law. She is the founder of OneAmerica, the largest immigrant rights advocacy organization in Washington state, and has spent 20 years leading organizing and advocacy efforts for women's and immigrant rights and racial and economic justice.

---
the BCDP 46th ANNUAL FUNDRAISING CELEBRATION
— agenda: SUNDAY, OCTOBER 3, 2021 —
5:00pm | welcome
opening remarks: Raffi Mercuri, BCDP Chair

recognition of electeds: Terry Whitaker, BCDP Champions Team Co-Lead

a word from Governor Jared Polis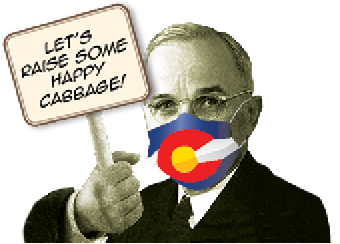 5:20pm | PADDLE RAISE
with Special Guest and Emcee, 2012-2021 State Rep. for HD11
Jonathan Singer

•••
5:40pm | TONIGHT'S PANEL DISCUSSION
Introduction & Remarks:
Raffi Mercuri, BCDP Chair
We Welcome:
Congressman Joe Neguse (CD2)
with KEYNOTE SPEAKER:
Representative Pramila Jayapal

•••
6:00pm | PRESENTATION OF TONIGHT'S AWARDS
2021 TOM MAYER AWARD FOR COMMUNITY SERVICE
BCDP Outreach & Inclusion Team

2021 JACK MAJOR AWARD FOR EXEMPLARY BCDP VOLUNTEER
Jim Johnson

2021 CAROLYN HOLMBERG AWARD FOR GET OUT THE VOTE
Amy Weinstein

2021 GIVE 'EM HELL HARRY AWARD FOR LONG-TERM SERVICE
TO THE DEMOCRATIC PARTY
Mike Altenbern
2021 JOSIE HEATH AWARD FOR OUTSTANDING YOUNG DEMOCRAT
Katie Malzbender

— Special award for 2021: —
THERE'S NOTHING "NORMAL" ABOUT THE NEW NORMAL
Jason Sherry & Susan Winter

• • •
• • •
Closing Remarks:
Raffi Mercuri, BCDP Chair
---
OUR ESTEEMED ELECTED OFFICIALS
Governor, Jared Polis
US Senator, Michael Bennet
US Representative, CD 2, Joe Neguse
Secretary of State, Jena Griswold
Attorney General, Phil Weiser
State Treasurer, Dave Young
Colorado Board of Education, CD 2, Angelika Schroeder
CU Regent, CD 2, Callie Rennison
CU Regent, At Large, Lesley Smith
RTD Board of Directors, District O, Lynn Guissinger
SD16 State Senator, Tammy Story
SD17 State Senator, Sonya Jacquez Lewis
SD18 State Senator, Steve Fenberg
HD10 State Representative, Edith Hooton
HD11 State Representative, Karen McCormick
HD12 State Representative, Tracey Bernett
HD13 State Representative, Judy Amabile
HD33 State Representative, Matthew Gray
Boulder County District Attorney, Michael Dougherty
Boulder County Commissioner, Claire Levy
Boulder County Commissioner, Marta Loachamin
Boulder County Commissioner, Matt Jones
County Assessor, Cynthia Braddock
County Clerk and Recorder, Molly Fitzpatrick
County Coroner, Emma Hall
County Sheriff, Joe Pelle
County Surveyor, Lee Stadele
County Treasurer, Paul Weissmann
---
— ADVERTISEMENT —
PAID FOR BY JOE NEGUSE FOR CONGRESS
---
thanks to our generous healthcare professionals...
...for their support of the Boulder County Democratic Party this year and in years past, listed below. Amidst this pandemic, we stand with them in their appreciation and first-hand knowledge of the dedication and sacrifice that our frontline healthcare heroes demonstrate every day — during this unprecedented and challenging time.
George Antoine, Ph.D. 
Barbara Beasley, R.N. and Dean Beasley, M.D.  
Patricia Butler, J.D., DrPH
Eben Carsey, M.D. and Lynn Gilbert, R.N., Ph.D 
Peter Dawson, M.D., M.P.H.  
William F. Erfling, M.D. 
Warren M Hern, M.D., M.P.H, Ph.D. 
Judith Kleinman, M.D. and Peter Kleinman, M.D. 
Kathy and Randolph Reims, M.D. 
Wendy Zerin, M.D.
---
Technical Issues? Call the Help Desk: (720) 647-5720‬ ...or Email us: helpdesk@bocodems.org‬
---
message from the chair RAFFI MERCURI
Greetings, Democrats! Thank you all for joining us for our first annual Champions of Democracy Celebration in support of the Boulder County Democratic Party. While I wish we could be together in person, it means the world to us that you're here with us virtually to celebrate the volunteers who make our party the fantastic community organization that it is.
The events of this past year remind us that democracy means so much more than simply showing up to vote. It means rolling up your sleeves and coming together as a community to support one another in times of need — and this is exactly what the Boulder County Democratic Party has done and continues to do as the pandemic goes on. Tonight we will hear from some of our esteemed elected officials who do this work of democracy every day, and we are honored to be joined by Representatives Joe Neguse and Pramila Jayapal whose work on public lands and social infrastructure remind us that together we can protect the things we hold most dear.
During the second half of our evening together, we will also be honoring some of the exemplary activists who have dedicated countless hours of their time to making this party the incredible organization that it is, so please stick around to hear about their incredible work.
It is an incredible honor to be the Chair of this organization, and I cannot overstate how grateful I am to all of you who support us with your time and treasure. I hope you enjoy tonight's program and feel inspired by the words of the speakers we've lined up.
Onward!

RAFFI MERCURI, Chair of the Boulder County Democratic Party
---
— ADVERTISEMENT —
PAID FOR BY DAVE YOUNG FOR COLORADO
---
 — our 2021 —

award recipients
---
THE TOM MAYER AWARD FOR COMMUNITY SERVICE is named in memory of former County Commissioner Tom Mayer, who was committed to health and human services, limiting growth and preservation of open spaces. Mark Udall, in his 2007 tribute, said: "With a big heart and never-ending compassion, he tirelessly fought for the underprivileged...Tom helped make Boulder County a better place for all of us."
THE 2021 TOM MAYER AWARDEES: The BCDP Outreach & Inclusion Team

(Left to right) LAUREL PADILLA, MARGARET ALFONSO, PAM MALZBENDER, NEIL FISHMAN, ANGEL SANCHEZ AND SONIA MARQUEZ LEAD THE OUTREACH AND INCLUSION TEAM, working together as a team to realize lasting inroads towards an inclusive, just, prosperous, and responsible society.
Individually we have worked tirelessly as community activists, collectively representing over a century of community involvement, not just for the Democratic Party, but also non-profits like the Colorado Immigrant Rights Coalition, Voces Unidas, El Comité de Longmont, Our Center, Zonta Foothills Club of Boulder County, Habitat for Humanity, Longmont Multicultural Action Committee, The Reentry Initiative, The Community Foundation Boulder County, the Boulder County AIDS Project, and Safe House Progressive Alliance for Non-Violence. But by working together through OIT we aspire to the vision of the Boulder County Democratic Party—to secure the health and welfare of all individuals while we elect leaders and achieve policies that reflect our values.
Whether it is implementing a texting campaign to connect people with COVID resources, advancing the vision of the Boulder County Democratic Party through community involvement, developing Civic Engagement Leaders, dialoguing with members of BIPOC communities, or sponsoring COVID Vaccine Equity Clinics, the Outreach and Inclusion Team strives to build trust and strengthen the connection between the Party and historically underrepresented Boulder County communities.
Since 2008, this Team has been an important part of the Boulder County Democratic Party. We accept this award on behalf of the visionary OIT Team leads in the past 13 years who have shared our passion. It is through their vision and stewardship for a better Party and stronger community that we continue our work.
We are honored by being awarded for our work but humbled by this recognition because it is work that we do as a labor of love. Thank you.
— Congratulations, Laurel, Margaret, Pam, Neil, Angel and Sonia!
---
— ADVERTISEMENT —
PAID FOR BY MATT BENJAMIN FOR COUNCIL
---
our 2021 champions award recipients continued
---
THE JACK MAJOR AWARD recognizes multi-year exemplary volunteer commitment to the Boulder County Democratic Party. Jack Major was a beloved and highly respected professor of English literature at the University of Colorado in the 60's, 70's and beyond. He was perpetually doing volunteer work to build the county party in an era when Democrats were not the majority in Boulder. Literally, hundreds upon hundreds of Democrats, young and old, cherished having him as a friend.
THE 2021 JACK MAJOR AWARDEE FOR COMMUNITY SERVICE: Jim Johnson

JIM JOHNSON CURRENTLY SERVES AS THE ASSISTANT TREASURER for the Boulder County Democratic Party. He also serves on the Fundraising Team and the Champions for Democracy Team.
Jim got started with the Party after "feeling the Bern" in the runup to the 2016 election. Once he understood that it all starts with Caucus, he helped organize his local neighborhood to get the best Caucus attendance in memory in the Allenspark Precinct. After serving as a delegate to both the County and State Assemblies, he was soon appointed to fill a vacancy as Precinct Chair.
Late in 2016 he was appointed to the position of Assistant Treasurer and then elected as Treasurer in early 2017. In 2019, he was again appointed Assistant Treasurer and then mentored both new treasurers in 2019 and 2021. Jim says he gets great satisfaction in helping others, and that is what led him to a carrier as a special education teacher and serving in many volunteer capacities. Jim lives west of Allenspark with his wife Cynthia. They love to hike, ski, and snowshoe the trails near their home. They also love spending time with their two very active granddaughters ages 13 and 15.  — Congratulations, Jim!
---
— ADVERTISEMENT —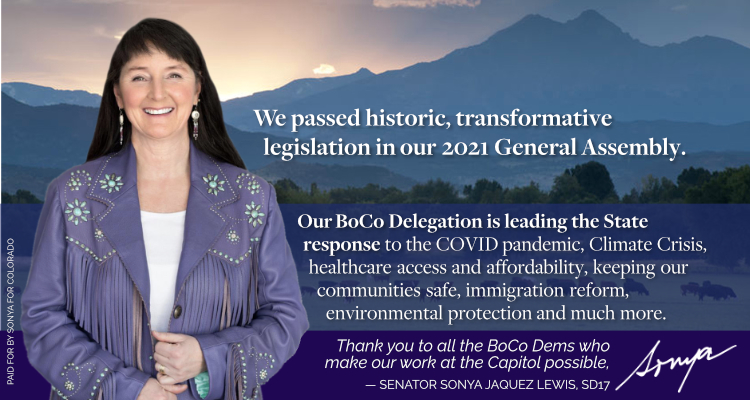 PAID FOR BY SONYA FOR COLORADO

---
— ADVERTISEMENT —
PAID FOR BY SHIQUITA FOR LONGMONT

---
our 2021 champions award recipients continued
---
THE CAROLYN HOLMBERG AWARD FOR GET OUT THE VOTE is named for the beloved Boulder County Open Space Director, who passed in 1998. Carolyn's GOTV work was instrumental and groundbreaking in shifting a red Boulder County to the rich and vibrant blue we know today, and her engaging spirit and warm ability to work with others inspires this award.
THE 2021 CAROLYN HOLMBERG AWARDEE: Amy Weinstein

I HAD OPPORTUNITIES, GROWING UP, TO LEARN TO APPRECIATE NATURE. In my twenties I knew that living rurally and close to nature really mattered to me. I am a Denver, Colorado native though have lived in the Boulder County since 1979 from mountains to plains. I've raised three amazing children, as a mostly single mom, and now have one very joyful grandchild who really does not yet grasp what we do about living through a pandemic. I live on farm and am lucky to have an amazing tenant farmer who grows incredible organic veggies—a dream come true for me. I am pursuing learning about larger scale composting, soil sustainability, agrivoltaics, carbon sequestration, and hugelkulture, to see what expression of stewardship is next possible for the farm.
I have been a precinct leader for around 20 years or more and have been happy to contribute a few hours a year for GOTV. I tried upgrading to EC in a leadership role several years ago though couldn't make it, the life of single mom, and work all blend effectively. In the interim, I had about 30 years of other part-time volunteer gigs, some leadership training, various self-employments and finally reached the time in my life where I could contribute even more time to volunteering. I did a self-survey and realized my areas of interest and contribution were either going to be through politics and/or planting trees. I do plant trees and I volunteer with BCDP and Longmont Area Dems (LAD).
I am also an artist, pursuing many diverse and interesting ideas from children's civics books to abstract watercolors, the occasional political cartoon to collage and photography. I work part-time for a dear artist friend doing everything from admin to photoshop. I am addicted to the world of politics and the difference we can make, not only through volunteer work, also through art, and placing the highest value on democracy.
We live in a world which seems to be in turmoil; I know our volunteerism can make a difference in the drift and I'm honored to be on the journey with so many thoughtful human beings. — Congratulations, Amy!
---
— ADVERTISEMENT —
PAID FOR BY COMMITTEE TO ELECT TALLIS
---
— ADVERTISEMENT —

PAID FOR BY TOGETHER WITH NICOLE SPEER

---
our 2022 champions award recipients continued
---
THE GIVE 'EM HELL, HARRY AWARD commemorates an incident during Harry Truman's 1948 Presidential campaign. During one of his speeches in which he was railing against his Republican opponents, someone yelled out "Give 'em Hell, Harry!" He responded: "I don't give them Hell. I just tell the truth about them and they think it's Hell." This award recognizes Long-term Service to the Democratic Party.
THE 2021 GIVE 'EM HELL, HARRY AWARDEE: Mike Altenbern
I HAVE SUPPORTED COLORADO AND BOULDER COUNTY DEMOCRATS OVER SEVERAL DECADES THROUGH GRASSROOTS VOLUNTEER WORK. In recent years, I have become more involved with BOCO Dems, and I have had the opportunity to serve as Team Lead for the Platform work for the past eight years.
My political activism began early by working to support public education through passing referendums and ballot issues. I have worked to elect candidates who share my values.
Shared values are what bring us together as Democrats, and we find these through our work on the BCDP platform. I enjoyed meeting and working with many new people and facilitating the necessary conversations to develop our platform.
Our BOCO Field Team works incredibly hard to distribute the voter guide, vote notes and text messages to Get Out The Vote. We recognize the certainty that we will elect quality Democrats in Boulder County who will be influential leaders in our state legislature. Also, our work encourages large voter turnout, which influences statewide races.
We like to think our team is responsible for electing our Governor, Secretary of State, Attorney General and State Treasurer! Let's not forget our US Representative from CD2 and our two US Democratic Senators. Everything we do that makes us successful is truly a team effort. It has been rewarding to be part of the Field Team for the past two decades.
My family and I have lived in Boulder County for 33 years. We enjoy the benefits of living in this special area. I am glad that I have been able to help Boulder County through my participation in the democratic process and the Democratic Party. — Congratulations, Mike!
---
— ADVERTISEMENT —
PAID FOR BY JOAN PECK FOR LONGMONT MAYOR

---
— ADVERTISEMENT —
PAID FOR BY WILLIAM HAMILTON FOR BVSD SCHOOL BOARD

---
our 2021 champions of democracy award recipients continued
---
THE JOSIE HEATH AWARD FOR OUTSTANDING YOUNG DEMOCRAT is named after Josie Heath, who served as Boulder County Commissioner for 8 years, the second woman elected to the Commission. In 1990, she was also a candidate for the United States Senate, winning the primary election but losing the general election. She was an instructor at Harvard's Institute of Politics and worked in the Clinton White House helping to initiate the Americorps program.
THE 2021 JOSIE HEATH AWARDEE: Katie Malzbender
KATIE WAS BORN AND RAISED IN BOULDER COUNTY. Having first phone banked for President Obama while a student at Fairview High School, Katie is a lifelong Democrat, climate activist, and organizer. After a six-year hiatus from Boulder for college in Baltimore and Graduate School in London, Katie returned to Boulder to work for Al Gore's Climate Reality Project.

You might remember that Katie served as Vice Chair External for the Boulder County Democratic Party beginning in 2017. She is particularly proud of her work planning candidate events during the 2018 midterm elections and helping to organize the 2019 Truman Celebration with AOC. Since her retirement from her Vice Chair position earlier this year, Katie has joined Julie Dadone as one of the Fundraising Team Leads for the party.
When not working for Democrats, Katie can be found working at her actual job as a Senior Organizing Strategist for the American Civil Liberties Union (ACLU). Katie loves exploring the trails around Colorado with her dog, Bartlet (as in West Wing's President, not the pear!), travelling, and singing in local choir Cantabile with her mom, Pam.
Please join us in congratulating Katie on this well-deserved recognition. — Congratulations, Katie!
---
— ADVERTISEMENT —
PAID FOR BY MCCOY FOR LONGMONT. GREG MILLER, TREASURER

---
— ADVERTISEMENT —
PAID FOR BY DEANN BUCHER FOR BOULDER VALLEY SCHOOL DISTRICT

---
— ADVERTISEMENT —
PAID FOR BY TAKAHASHI FOR BOULDER

---
our 2021 champions of democracy award recipients continued

---
THE 2021 THERE'S NOTHING "NORMAL" ABOUT THE NEW NORMAL AWARD: This is the first time for this award – maybe even the only time? It honors Jason Sherry and Susan Winter, best known for their technical expertise, quick thinking, and solutions that made it possible for the Boulder County Democratic Party to support democracy during the Covid Pandemic. They made it possible for the BCDP switch to a "virtual" world – including Fundraising Events, Assembly, Re-Org, Monthly Executive Committee and Team Meetings and provided a robust digital outreach and webinars. Without their countless number of hours, suggestions and technical solutions, the BCDP could not have achieved their mission during the COVID pandemic.
THE 2021 EXTRAORDINARY — NOT NORMAL — AWARDEES:
Jason Sherry & Susan Winter

JASON HAS BEEN THE SECRETARY AND TECHNOLOGY LEAD FOR THE PARTY SINCE 2017, he worked early on to migrate the party's data and internal communications to a party-owned platform (Office 365). During this process he put into place a document management solution so party files and resources can easily be accessed by the public and BCDP members. This work has greatly increased the party's productivity, digital capabilities, data security, and greatly reduces the loss of information when volunteers leave. He got heavily involved with politics in November 2015, as the HD11 Captain and Data Captain for the Bernie Sanders campaign. He went on to be a National Delegate for Bernie at the 2016 DNC, and after that he was the Data Captain for Bob Seay's CD4 2016 campaign. Professionally, he's been in IT for over 25 years, mainly focused on communication and collaboration solutions for large organizations. He is an avid skier, dirt biker, concert goer, and loves to travel and try new things.
SUSAN IS, ONCE AGAIN, HONORED TO BE RECOGNIZED BY THE BOULDER COUNTY DEMS. Susan started volunteering with the BCDP in 2008 as a Poll Watcher, after having attended her first Caucus earlier that year. She continued to volunteer in her precinct, and in 2012, officially became the Precinct Leader. Summer 2018, she had more time to offer and became an IT Lead, and later, participated as a Supersite Co-Chair, on the 2019 & 2020 Truman Celebration Teams, on the 2020 Caucus & Assembly Team, and on the 2021 ReOrg Team. Her virtual-event-hosting skills greatly increased over the past 18 months, as well.
Susan grew up in an atmosphere of diversity, inclusion, and advocacy. Her father, born in Tangier and raised in Spain and Argentina, worked in higher education, and her mother devoted her life to special education and the ARC. Both her father and step-mother have been active with their local ACLU and Democratic Party chapters for many years.
Susan's career has primarily been in higher education policy and administration, marketing & design, event planning, and technology. She also has education and experience in theatrical stage management, acting, music, and dance. Throughout her years in Boulder, Susan has actively participated in the community, including with the Boulder County Nature Association and some City and County advisory groups/panels. If you are looking for her, though, there's a good chance she's at the movies. — Congratulations, Jason and Susan!

---
our 2021 champions honorees
Jossy Martinez
Abe Meza
Ray Rodriguez
Claudia Ibarra
Erica Moreno
Monica Márquez
Juanita Dominguez
Linda Márquez
Flor Arellano
Franco Gutierrez
Emily Castañon
Joanna Nuñez
Pablo Villavicencio
Araceli Medina
Lizbeth López
Citlalli Vazquez Gomez
Christian Nevarez
---
Technical Issues? Call the Help Desk: (720) 647-5720‬ ...or Email us: helpdesk@bocodems.org‬
---
— ADVERTISEMENT —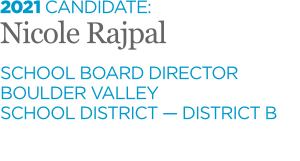 PAID FOR BY NICOLE RAJPAL FOR BOULDER VALLEY SCHOOL DISTRICT BOARD OF EDUCATION

---
— ADVERTISEMENT —
PAID FOR BY DAN FOR BOULDER COUNCIL
---
— ADVERTISEMENT —
PAID FOR BY KYLE FOR LOUISVILLE
---
heartfelt thanks to our sponsors
Your donations help us do the work we do, from office space and supplies, to our robust Get Out the Vote efforts, to our Rockstar Latinx Outreach Directors, to media communications, to the production of our BCDP Voter Guide, with over 80,000 of those guides dropped or mailed to neighborhoods all over Boulder County each election. This means a lot to us, especially as we continue to navigate the Covid19 environment, and how that shapes getting out the 2021 vote, but WE STAND READY AND INSPIRED...THANK YOU!
CHAMPION SPONSORS — $2,000+
Bill Hyde 
OBAMA SPONSORS — $1,000+ 
Jessica and Matt Benjamin
Katie Borden
Julie Dadone
Michael Dougherty, District Attorney
Steve Fenberg, Colorado Senate Majority Leader representing Senate District 18
Virginia Gebhart
Edie Hooton, Representative in Colorado House District 10
Cathy and David James
Joe Neguse, US Congressman, CD2
Diane Rosenthal
Carol and Chuck Semple
Ingvar and Sally Sodal
Carol Teal and Bill Wilson
FDR SPONSORS — $500+ 
Singer for Boulder County

Judy Amabile, Colorado Representative District 13
Heather Beadle
Tracey Bernett, Colorado Representative District 12
Aaron Brockett, Boulder City Council
Diane Carr
Chris Craigo
Alexandra Fischer
Molly Fitzpatrick, Boulder County Clerk and Recorder
Dan Gould and Kay Meyer
Paige Henchen, Superior Board of Trustees
Marilyn and David Hughes
Pam and Rainer Malzbender
Richard Marsh
Karen McCormick, Colorado Representative District 11
Joan Peck, Longmont City Council, Candidate for Longmont Mayor
Dee Perry
Jason Sherry
Britta Singer
Ron Weaver
Terrye and Tom Whitaker 
JFK SPONSORS — $250+ 
Cynthia Braddock, Boulder County Assessor
Candace Bowie
Pat Davis
Megan Dawson
Peter and Joan Dawson
Democratic Women of Boulder County Small Donor Committee
Anne Feeser-Olesen and Peter Olesen
Patricia and Larry Feeser
Neil Fishman
Linda Flack
Mike Foote, Former Colorado State Senator
Aaron Harber
Mike Hart
Matt Jones, Boulder County Commissioner
Claire Levy, Boulder County Commissioner
Judy McGoogan
Marjorie McIntosh
Judy Reid and Rick Collins
Tammy Story, Colorado State Senator, District 16
Molly and John Tayer
Beth Utton
Amy Weinstein
---
ANOTHER GREAT WAY TO GIVE: Consider a monthly donation of $10 a month! It's easy and the best way to invest in one of the finest field teams in the state, helping voters to vote BLUE on every part of their ballot! donate to the bcdp
---

Remembering our first time...
THE FIRST BOULDER COUNTY DEMOCRATIC PARTY TRUMAN DINNER was held on February 13, 1976, in the "Memorial Center Ballroom" at CU. Rumor has it there were 500 in attendance, but we don't know what the menu was.
We're guessing chicken.
In 1976, Dickey Lee Hullinghorst served as our party chair. Dickey Lee and the previous chair, Ron Stewart, decided to have an annual event, calling it the Truman Dinner.
Dickey Lee and a lot of good Democratic volunteers made it a reality. Senator Gary Hart, who had recently been elected in 1974, helped secure George McGovern (shown here, with Dickie Lee at our first Truman Dinner in 1976), South Dakota Senator, and our Presidential candidate in 1972, as the first keynote speaker. McGovern gave the audience a glimpse of what the country may have looked like if he had triumphed over Richard Nixon.
That first Truman Dinner boasted some local Colorado celebrities, too. Among them were newly elected Governor Dick Lamm and Congressman Tim Wirth, along with Lt. Governor George Brown and Attorney General J. D. MacFarlane. Some names from the 1976 Truman Dinner team are familiar to us today: along with Dickey Lee and Ron, there's Charlotte Houston, Barbara Lamm, and Linda Flack.
Just like in 1976, this event is only made possible by the many volunteers who help plan and organize it. We thank Dickey Lee and Ron for getting it started, and every volunteer since then, for keeping it going.
— This engaging piece of history was written by Candace Bowie, in 2015, the same year that Dickie Lee Hullinghorst was Colorado Speaker of the House, and as we celebrated the 40th anniversary of the Truman Dinner. Candace was a valued member of the BCDP Field Team, but also worked many years on the organizing of the Truman Celebration and continues to be an active and cherished member of the BoCoDem community. We hope that as we usher in the new era of the Champions of Democracy Celebration — virtual today, but hopefully in person next year — that we do Candace, Dickie Lee, and the countless volunteers who came before us — proud. And in the process, perhaps get a wink from Harry Truman himself!

---
CHAMPIONS TEAM LEADS:
Terrye Whitaker & Marisa Dirks
(and previous Vice Chair of the BCDP, Meghan Lukens,
now teaching in Steamboat Springs, who got us started this year!)

ASSISTANT TREASURER:
Jim Johnson
FUNDRAISING:
Julie Dadone and Katie Malzbender

LOGISTICS AND IT:
Jason Sherry, Susan Winter, Judi Bodinger  
AWARDS:
Judi Bodinger

AD MANAGER AND GRAPHIC DESIGNER:
Marisa Dirks 
---
Technical Issues? Call the Help Desk: (720) 647-5720‬ ...or Email us: helpdesk@bocodems.org‬
---
   VOLUNTEER  PRECINCT LOOKUP
---
"Republicans approve of the American farmer, but they are willing to help him go broke. They stand four-square for the American home — but not for housing. They are strong for labor — but they are stronger for restricting labor's rights. They favor minimum wage — the smaller the minimum wage the better. They endorse educational opportunity for all — but they won't spend money for teachers or for schools. They think modern medical care and hospitals are fine — for people who can afford them. They consider electrical power a great blessing — but only when the private power companies get their rake-off. They think the American standard of living is a fine thing — so long as it doesn't spread to all the people. And they admire the Government of the United States so much that they would like to buy it." — HARRY S. TRUMAN
---