Current Volunteer Opportunities
Upcoming Events
Open Office Positions
Open Field Positions

Precinct Leader

Get to know your neighborhood better by becoming a precinct leader! We need two residents of each precinct to volunteer to lead Democratic activities in your area. To check whether o

click here

. If there are zero, or only one, name(s) under "Your Precinct Leaders", and you are interested in serving, please email

field@bocodems.org

r not your precinct has two leaders
Teams
Unsure where to start? Come to a BoCo Dems 101 Volunteer Orientation!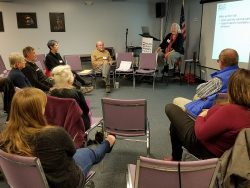 Have you been thinking about getting involved with the Boulder County Democratic Party but just not sure how to do it? BoCoDems 101 is for you! You will not only get an orientation about how the party organization works and what it does (and doesn't) do, but you will also walk away with an understanding of how you can contribute your own time and talent to help us all win big in the upcoming elections!
Come join us at an upcoming orientation session (date TBD).
Coming in September! A special Orientation 101 focusing on Get Out the Vote efforts for the fall election. What is GOTV and how can volunteers participate will be revealed! Date is not yet set but we will send out notification when we know more.