Current Volunteer Opportunities
Upcoming Events
Our summer events are completed.  If you wish to join our Get Out the Vote efforts please send an email to volunteers@bocodems.org
Open Office Positions
Events Team Lead

Pride Fest, Latino Fest, Creek Fest, and more... We need you! The BoCo Dems prioritize being good community partners by having a presence at events around the community. Whether they're fun community events or other progressive organizations' events, we want to know about them and be there!This is a great position for up to three people who have their thumb on the pulse of Boulder County happenings, like going to fun events and meeting the progressives of our county, or just want to learn more about coordinating and supporting events.

For the full description, and to apply, click

here

!

IT Team Lead

The primary need is to help with end-user account administration and assistance, including but not limited to management of Office 365 accounts, using SharePoint for document management, and on-boarding of new volunteers \\\\\\\\\\\\\\\\ users at BCDP. The administration work is limited to a couple of hours a week, on the high-end, with monthly or quarterly assistance needed at meetings and for on-boarding.

BCDP currently has one IT Lead position open, which includes membership to the Executive Committee (EC) and Central Committee (CC) of the party.

For the full description, and to apply, click here

Fundraising Team Lead

The Fundraising Team Leaders, working in a volunteer capacity as the Fundraising Team, serve officially on the BCDP Central Committee (CC) and, thus, are members of the CC and core members of the Executive Committee (EC).2 The Fundraising Team Leaders work closely with the Vice Chair for Capacity Building, who oversees fundraising, including the Fundraising Team, Truman Dinner Team, Century Club Committee,3 and other BCDP teams and committees as directed by the Chair of the BCDP.4 Typically, the time commitment.

The Boulder County Democratic Party (BoCoDems/BCDP) is seeking UP TO three (3) Fundraising Team Leaders to take responsibility together for fundraising efforts for the BCDP.or the Team Leaders as a group is about 10 hours per week, more or less, depending on events and activities related to fundraising.

For the full description, and to apply, click here
Open Field Positions
Precinct Leader

Get to know your neighborhood better by becoming a precinct leader! We need two residents of each precinct to volunteer to lead Democratic activities in your area. To check whether o

click here

. If there are zero, or only one, name(s) under "Your Precinct Leaders", and you are interested in serving, please email

field@bocodems.org

r not your precinct has two leaders
Teams
Join a team

Much of the work of the BoCo Dems is done by teams, and those teams are usually very open to having new members join them. For a list of the teams and contact information

click here

. Click on the envelope at the bottom of any description to send an email inquiry to the team leads.
Unsure where to start? Come to a BoCo Dems 101 Volunteer Orientation!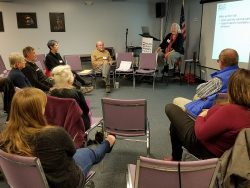 Have you been thinking about getting involved with the Boulder County Democratic Party but just not sure how to do it? BoCoDems 101 is for you! You will not only get an orientation about how the party organization works and what it does (and doesn't) do, but you will also walk away with an understanding of how you can contribute your own time and talent to help us all win big in the upcoming elections!
Come join us at an upcoming orientation session on September 26, 2018.
We will focus this Orientation 101 focusing on Get Out the Vote efforts for the fall election. What is GOTV and how can volunteers participate will be revealed!
Want to sign up?  Go to our Sign Up Page