Current Volunteer Opportunities
Unsure where to start? Come to a BoCo Dems 101 Volunteer Orientation!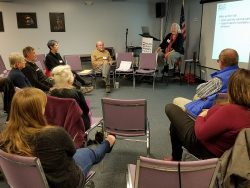 Have you been thinking about getting involved with the Boulder County Democratic Party but just not sure how to do it? BoCoDems 101 is for you! You will not only get an orientation about how the party organization works and what it does (and doesn't) do, but you will also walk away with an understanding of how you can contribute your own time and talent to help us all win big in the upcoming elections!
Come join us for the next orientation session: Tuesday, Feb. 13, 7:00 pm at BoCo Dems Headquarters.  Click here to register.
Open Office Positions
Vice Chair of Capacity Building

The BCDP Officer Team is looking for a new member to fill the role of Vice Chair of Capacity Building.

This Vice Chair oversees our Outreach and Inclusion team, the Truman Dinner and all of our fundraising, our volunteer team, and our candidate development and engagement. This is a great opportunity for someone with political experience looking to get more involved in the County party.

For the full description, and to apply, click here!

Events Team Lead

Pride Fest, Latino Fest, Creek Fest, and more... We need you! The BoCo Dems prioritize being good community partners by having a presence at events around the community. Whether they're fun community events or other progressive organizations' events, we want to know about them and be there!This is a great position for up to three people who have their thumb on the pulse of Boulder County happenings, like going to fun events and meeting the progressives of our county, or just want to learn more about coordinating and supporting events.

For the full description, and to apply, click

here

!

Office Team Lead

Help us keep the BoCo Dems office up and running as a hub of progressive activity in the County! We're looking for up to three people to staff office hours during the week.

Our office on Arapahoe and 55th streets in Boulder is a great space full of community art and is the home of our monthly Executive Committee Meetings and meetings of other like-minded groups around the county. Help us keep the office vibrant and organized!

For the full description, and to apply, click here!
Open Field Positions
Upcoming Events

Caucus

Democratic Caucuses will be held on March 6th, 2018 at several locations around Boulder County. We anticipate a very active caucus this year with 15-20,000 attendees across the supersites. In order to prepare we need volunteers at BCDP headquarters at the following times.

* Supersite Document Preparation: Feb. 7 - 14. 9am - 5pm

* Supersite Document Pickup: Feb. 14 - 17, timeframes to be determined

* Post Caucus Data Entry: Mar. 7 - 18, 9am - 5pm

Please send an email to volunteers@bocodems.org if you are interested in helping. Thank you!
Teams
Join a team

Much of the work of the BoCo Dems is done by teams, and those teams are usually very open to having new members join them. For a list of the teams and contact information

click here

. Click on the envelope at the bottom of any description to send an email inquiry to the team leads.