...your "scrollable" program for the 45th Annual Truman Virtual Celebration, held live on Friday, June 26, 2020. Keep it open on another browser window as the Truman Zoom event happens. You'll find the agenda, ads from stellar Democratic candidates, profiles of our 2020 Awardees, Truman tidbits, and more — from this historic, and now virtual — event. Enjoy!
---
Technical Issues? Call the Help Desk: (720) 647-5720‬
---
2020 TRUMAN CELEBRATION KEYNOTE SPEAKER:
Dr. Abdul El-Sayed
DR. ABDUL EL-SAYED IS A PHYSICIAN, epidemiologist, public health expert, and progressive activist. He is the Chair of Southpaw Michigan and a Political Contributor at CNN. He serves as a Sanders appointee and one of eight members of Vice President Biden's 2020 Unity Task Force for Healthcare. His book, Healing Politics (Abrams Press), diagnoses our country's epidemic of insecurity and the empathy politics we will need to treat it, and he is the host of "America Dissected," a podcast by Crooked Media, which goes beyond the headlines to explore what really matters for our health. In 2018, Abdul ran for Governor of Michigan on an unapologetically progressive platform. Though he finished second of three earning over 340,000 votes in the Democratic primary, his bid was endorsed by Senator Bernie Sanders, Congresswoman Alexandria Ocasio-Cortez, and The Nation. Prior, he served the City of Detroit as Health Director, appointed to rebuild Detroit's Health Department after it was privatized during the city's bankruptcy. He was the youngest health official in a major American city and was awarded "Public Official of the Year" by the Michigan League of Conservation Voters and "40 under 40" by Crain's Detroit Business in view of his leadership. Prior to entering public service, he was Assistant Professor of Epidemiology at Columbia University's Mailman School of Public Health where he led Columbia's Systems Science Program and Global Research Analytics for Population Health. He has over 100 peer reviewed scientific publications that have been cited over 1600 times.
Abdul earned a Doctorate in Public Health from Oxford University, where he was a Rhodes Scholar. He also holds a Medical Degree from Columbia University where he was an NIH-funded Medical Scientist Training Program Fellow and Soros New Americans Fellow. He graduated Phi Beta Kappa with Highest Distinction from the University of Michigan, where he was chosen to deliver the student remarks alongside President Bill Clinton. He is a native Michigander who was born and raised in Metro Detroit, where he lives with his wife Sarah, a psychiatrist, and daughter Emmalee. He is a proud member of UAW Local 1981, AFT Local 477, and SEIU Local 500. He enjoys good people, good coffee, good food, and University of Michigan football. 
---
---
the BCDP 45th ANNUAL
TRUMAN CELEBRATION
— agenda: FRIDAY, JUNE 26, 2020 —
6:00pm | welcome
Raffi Mercuri, BCDP Chair
opening remarks: Secretary of State Jena Griswold
recognition of electeds: BCDP Vice Chair, External Katie Malzbender
a word from Senate Majority Leader of the Colorado General Assembly Steve Fenberg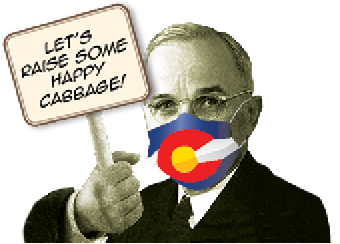 6:20pm | PADDLE RAISE
remarks from BCDP Vice Chair, Internal John Henry Vansant
•••
6:35pm | PRESENTATION OF TONIGHT'S AWARDS
2020 CAROLYN HOLMBERG AWARD FOR GET OUT THE VOTE
Susan Winter
2020 TOM MAYER AWARD FOR COMMUNITY SERVICE
Claudia Ibarra
2020 JOSIE HEATH AWARD FOR OUTSTANDING YOUNG DEMOCRAT
Jake Marsing
2020 JACK MAJOR AWARD FOR EXEMPLARY BCDP VOLUNTEER
Carol Teal
2020 GIVE 'EM HELL HARRY AWARD FOR LONG-TERM SERVICE
TO THE DEMOCRATIC PARTY
KC Becker
Speaker of the Colorado House
•••
6:45pm | TONIGHT'S PANEL DISCUSSION
Introduction & Remarks:
Raffi Mercuri, BCDP Chair
We Welcome:
Congressman Joe Neguse (CD2)
with KEYNOTE SPEAKER:
Dr. Abdul El-Sayed
•••
Closing Remarks:
Raffi Mercuri, BCDP Chair
---
OUR ESTEEMED ELECTED OFFICIALS
Governor, Jared Polis
US Senator, Michael Bennet
US Representative, CD 2, Joe Neguse
Secretary of State, Jena Griswold
Attorney General, Phil Weiser
State Treasurer, Dave Young
Colorado Board of Education, CD 2, Angelika Schroeder
CU Regent, CD 2, Lesley Smith
RTD Board of Directors, District I, Judy Lubow
SD16 State Senator, Tammy Story
SD17 State Senator, Mike Foote
SD18 State Senator, Steve Fenberg
HD10 State Representative, Edith Hooton
HD11 State Representative, Jonathan Singer
HD12 State Representative, Sonya Jacquez Lewis
HD13 State Representative, KC Becker
HD33 State Representative, Matthew Gray
Boulder County District Attorney, Michael Dougherty
Boulder County Commissioner, Deb Gardner
Boulder County Commissioner, Elise Jones
Boulder County Commissioner, Matt Jones
County Assessor, Cynthia Braddock
County Clerk and Recorder, Molly Fitzpatrick
County Coroner, Emma Hall
County Sheriff, Joe Pelle
County Surveyor, Lee Stadele
County Treasurer, Paul Weissmann
---
— ADVERTISEMENT —
PAID FOR BY JOE NEGUSE FOR CONGRESS
---
thanks to our generous healthcare professionals...
...for their support of the Boulder County Democratic Party this year and in years past, listed below. Amidst this pandemic, we stand with them in their appreciation and first-hand knowledge of the dedication and sacrifice our frontline healthcare heroes demonstrate every day — during this unprecedented and challenging time.
George Antoine, Ph.D. 
Barbara Beasley, R.N. and Dean Beasley, M.D.  
Patricia Butler, J.D. 
Juliet Carpenter, M.D. 
Eben Carsey, M.D. and Lynn Gilbert, R.N., Ph.D 
Peter Dawson, M.D., M.P.H. 
Cynthia Divino, Ph.D 
William F. Erfling, M.D. 
Warren M Hern, M.D., M.P.H, Ph.D. 
Judith Kleinman, M.D. and Peter Kleinman, M.D. 
Mark Leifeste, M.D. 
Randolph Reims, M.D. 
Phillip Weber, M.D. 
Paula Zegob-Hartmann, M.D. 
Wendy Zerin, M.D.
---
Technical Issues? Call the Help Desk: (720) 647-5720‬
---
did you know?: 1945 — a mere seven months into a presidency he inherited from Franklin D. Roosevelt — Truman proposed a "universal" national health insurance program. In his remarks to Congress, he declared:
"Millions of our citizens do not now have a full measure of opportunity to achieve and enjoy good health. Millions do not now have protection or security against the economic effects of sickness. The time has arrived for action to help them attain that opportunity and that protection." — HARRY S. TRUMAN
---
message from the chair RAFFI MERCURI
Hello Boulder County Democrats, and thank you for attending our 45th Annual Truman Celebration. We're coming together online this year during a truly unprecedented time in our history. Amid a global pandemic which continues to impact every American's health and economic prospects, we are also undergoing a profound transformation of how our public institutions, in particular how law enforcement, interacts with communities of color.  
I'm proud that Democrats at every level of government are striving to address these issues quickly; earlier this month, for example, Colorado was among the first states to implement sweeping police reform.  But the reality is that these reforms are merely first steps-- so much more work needs to be done to address the structural inequities that communities of color are subjected to every day.  
That work starts here. Just by attending this year's Truman Celebration, you are contributing to collective effort of hundreds of local activists to elect Democrats up and down the ballot, advocate for progressive legislation, and empower other community members to take ownership of their political power. So, from the bottom of my heart, I want to thank you for honoring the work that the Boulder County Democratic Party is doing through your participation in the 45th Annual Truman Celebration. 
With that said, please enjoy the conversations we're having tonight with our Boulder County Elected officials, our BoCo Dems activists, and of course the incredible Dr. Abdul El-Sayed. 
Sincerely, 
RAFFI MERCURI, Chair of the Boulder County Democratic Party
---
— ADVERTISEMENT —
PAID FOR BY KARENFORCO
---
our 2020 truman award recipients
---
THE CAROLYN HOLMBERG AWARD FOR GET OUT THE VOTE is named for the beloved Boulder County Open Space Director, who passed in 1998. Carolyn's GOTV work was instrumental and groundbreaking in shifting a red Boulder County to the rich and vibrant blue we know today, and her engaging spirit and warm ability to work with others inspires this award.
THE 2020 CAROLYN HOLMBERG AWARDEE FOR GET OUT THE VOTE: Susan Winter
SUSAN GREW UP IN AN ATMOSPHERE of diversity, inclusion and advocacy. Her father, born in Tangier and raised in Spain and Argentina, worked in higher education, and her mother devoted her life to special education and the ARC. Both her father and step-mother have been active with their local ACLU and Democratic Party chapters for many years.
Susan started volunteering for the BoCo Dems in 2008 as a Poll Watcher, after having attended her first Caucus earlier that year. She continued to volunteer in her precinct, and in 2012, she officially became the Precinct Leader. Summer 2018, she had time to participate more, and became an IT Lead, and later, a member of the 2019 Truman Celebration Team and the 2020 Caucus & Assembly Team. 
Susan's career has primarily been in higher education policy and administration, marketing & design, event planning, and technology. She also has education and experience in theatrical stage management, acting, music, and dance. Throughout her years in Boulder, Susan has actively participated in the community, including with the Boulder County Nature Association and some City and County advisory groups/sessions. If you are looking for her, though, there's a good chance she's at the movies (once they open again). 
"It has been a pleasure interacting with so many people who are so passionate about politics and who understand what it takes to bring about real change." — Congratulations, Susan!
---
— ADVERTISEMENT —
PAID FOR BY MARTA FOR COLORADO
---
our 2020 truman award recipients continued
---
THE TOM MAYER AWARD FOR COMMUNITY SERVICE is named in memory of former County Commissioner Tom Mayer, who was committed to health and human services, limiting growth and preservation of open spaces. Mark Udall, in his 2007 tribute, said: "With a big heart and never-ending compassion, he tirelessly fought for the underprivileged...Tom helped make Boulder County a better place for all of us."
THE 2020 TOM MAYER AWARDEE FOR COMMUNITY SERVICE: Claudia Ibarra
CLAUDIA IBARRA IS A YOUNG DACA RECIPIENT IN THE BOCO COMMUNITY. She's a CNA at Manor Care in Boulder, working while she earns her nursing degree at Metro. She knows firsthand what challenges face the undocumented community — Her father was deported, she hasn't seen him in 12 years, and she's faced bureaucratic challenges in her career because of her immigration status. She was a leader in the Boulder High Panthers Z Club, was an officer for 2 years, has been on advisory board of the Flatirons Golden Z club for two years. She volunteers with service projects through Zonta, and was leader of last summer's GOTV project with LWV. Now, her mission is to spread the word on the impact of DACA and protecting young people like herself. She works with Sonia and Angel in NCIU, speaks at rallies, was on a podcast with SUMA, at more in her role as a community advocate. She's motivated now to work to change laws permanently to protect undocumented folks and was an AOC scholarship recipient last year. — Congratulations, Claudia!
---
— ADVERTISEMENT —
PAID FOR BY BOULDER COUNTY STATE DELEGATION
---
— ADVERTISEMENT —
PAID FOR BY ELECT JUDY AMABILE
---
our 2020 truman award recipients continued
---
THE JOSIE HEATH AWARD FOR OUTSTANDING YOUNG DEMOCRAT is named after Josie Heath, who served as Boulder County Commissioner for 8 years, the second woman elected to the Commission. In 1990, she was also a candidate for the United States Senate, winning the primary election but losing the general election. She was an instructor at Harvard's Institute of Politics and worked in the Clinton White House helping to initiate the Americorps program.
THE 2020 JOSIE HEATH AWARDEE: Jake Marsing
A FOURTH GENERATION LONGMONTER, JAKE MARSING has been passionate about making change happen since knocking on his first door in 2004 at age nine. He's grown up in local politics, working closely with elected leaders like Former State Senate President Brandon Shaffer, Speaker KC Becker, and State Representative Jonathan Singer as paid staff, along with dozens of and local elected officials as a volunteer.
For almost three years, he's worked alongside State Senator Mike Foote, both as an advisor and legislative aide, helping lead both of his 2018 campaigns and his legislative office in the Colorado Senate.
First volunteering for the Boulder County Democratic Party in 2008, Jake has served the party as a precinct leader, volunteer team lead, and executive committee member, among other positions. In 2018, he led the party's first ever GOTV text message outreach team, recruiting, training, and leading more than 30 volunteers to contact more than 40,000 young people in Boulder County.
Now 25, Jake recently graduated with his Bachelor's in History from the CU Denver. In July, he'll begin graduate school in Boulder as he works towards becoming a social studies teacher.In his spare time, he loves to play guitar poorly, read and write history, and serve as the Vice-Chair of Longmont's Housing and Human Services Advisory Board.
He's grateful to his family, especially his mom Amy, the incredible BoCo Dems volunteers he's been able to work with over the last many years, and all of you who have helped shape his view of the world. — Congratulations, Jake!
---
— ADVERTISEMENT —
PAID FOR BY CLAIRE FOR COLORADO
---
— ADVERTISEMENT —

PAID FOR BY TRACEY BERNETT FOR COLORADO,
REGISTERED AGENT, TRACEY BERNETT
---
our 2020 truman award recipients continued
---
THE JACK MAJOR AWARD recognizes multi-year  exemplary volunteer commitment to the Boulder County Democratic Party. Jack Major was a beloved and highly respected professor of English literature at the University of Colorado in the 60's, 70's and beyond. He was perpetually doing volunteer work to build the county party in an era when Democrats were not the majority in Boulder. Literally, hundreds upon hundreds of Democrats, young and old, cherished having him as a friend.
THE 2020 JACK MAJOR AWARDEE: Carol Teal  
CAROL TEAL IS ONE OF THE FUNDRAISING TEAM LEADS for the Boulder County Democratic Party. She also serves as an Area Coordinator for the BCDP Field Team. Carol is a retired political and non-profit fundraiser, former CPA and accounting instructor. She retired after a decade as Executive Director of Lillian's List of NC, an organization that recruits, trains, and supports pro-choice Democratic women running for the NC General Assembly. She has twice served as a delegate to the Democratic National Convention in Chicago in 1996 and Denver in 2008 and highly recommends this experience. She and her husband have lived in Longmont since 2017. She is a political junkie and loves asking people for money to support worthy causes like BCDP. She also loves to travel, read and is a hike leader with the Longmont Senior Center. — Congratulations, Carol!
---
— ADVERTISEMENT —
PAID FOR BY SONYA FOR COLORADO
---
— ADVERTISEMENT —
MAP
PAID FOR BY MCCORKLE FOR CONGRESS
---
our 2020 truman award recipients continued
---
THE GIVE 'EM HELL, HARRY AWARD commemorates an incident during Harry Truman's 1948 Presidential campaign. During one of his speeches in which he was railing against his Republican opponents, someone yelled out "Give 'em Hell, Harry." He responded: "I don't give them Hell. I just tell the truth about them and they think it's Hell." This award recognizes Long-term Service to the Democratic Party.
THE 2020 GIVE 'EM HELL, HARRY AWARDEE: Speaker of the Colorado House, KC Becker
IT'S NO SURPRISE THAT THIS YEAR'S  Give Em Hell Harry Award goes to the 59th Speaker of the Colorado House, KC Becker. But it's also true that this year's legislative session, put on a temporary halt due to Covid-19, was legendary. Once the legislators came back to session, masked but vigilant, it was soon that the protests also came to the streets of Denver. Some legislators went outside to join the protests, then came back to vote at committee, or to speak on the floor. Lots of late nights, with the crowd chants being heard outside. One fateful night, there were shots fired, as legislators outside ducked for cover. Each day, KC led her colleagues, with the same grace and efficacy her 2 years as Speaker of the Colorado House demonstrated. But this time, not only was she closing out her final year in our legislature, she was shepherding in even more transformational law. The landmark Oil & Gas Regulations of 2019 were remarkable enough. The 2020 session proved that KC and our Democratic legislators were up for even greater challenges — pandemic or not.  
The Boulder County Dems remember when KC first ran for state rep for House District 13. Self-effacing, hard-working, with a bright spirit about her, she was one of those "down ballot races" that we constantly told voters to never — ever — take for granted. We are so grateful they listened. Because look what she did!: As a legislator, drafting laws addressing fair campaign practices, rural broadband access, funding struggling hospitals, watershed protection, pollution reduction, protecting PERA, and more. KC's colleagues then voted her Speaker of the House in 2019, because they saw that steady hand, and endorsed her leadership. A leadership they could count on now more than ever. The Colorado Sun called the passage of SB20-217, Enhance Law Enforcement Integrity (police accountability), just a couple of weeks ago — "astonishing". And as Madame Speaker KC Becker lowered the gavel during that historic moment, she was struck with emotion and the tears flowed. She knew there were legislators before her who tried and did not prevail in the same efforts. She saw firsthand the tireless work of Representatives Herod and Gonzalez-Gutierrez, and Senators Garcia and Fields. She understood the enormity of that moment.
So with equally enormous gratitude, we salute KC Becker — we're convinced she wouldn't want us to make a fuss — but allow us this much, Madame Speaker, you deserve this award. Take a much needed rest with your family, for now, but we know Colorado is better for your service. Thank You! — Congratulations, Madame Speaker!
---
congratulations to our 2020 truman awardees!
---
— ADVERTISEMENT —
PAID FOR BY SINGER FOR BOULDER COUNTY
---
— ADVERTISEMENT —
PAID FOR BY MARILYN HUGHES
---
our 2020 truman honorees
Adela Aguirre
Cristina Aguirre
Kimberly Aleman
Nicole Barajas
Karla Butista
Juanita Dominguez
Ariana Garcia
Paola Garcia-Baron
Irania Gutierrez
Lucy Hernandez
Claudia Ibarra
Sammy Ibarra
Maria Jaramillo
Estefany Longoria
Gaby Lopez
Jeanette Madrid
Valerie Marcelino
Linda Marquez
Socorro Marquez
Jossy Martinez
Erica Moreno
Marta Moreno
Ariana Ortega
Jeny Padilla
Rosa Quiroz Castillo
Ray Rodriguez
Perla Ruiz
Sandra Ruiz
Daisy Ruvalcaba
Luis Serrano Gonzalez
Dulce Valle
Citlalli Vazquez
Pablo Villavicencio
---
Technical Issues? Call the Help Desk: (720) 647-5720‬
---
— ADVERTISEMENT —
PAID FOR BY BOULDER COUNTY STATE DELEGATION: FENBERG, FOOTE, GRAY, HOOTON, JACQUEZ LEWIS & SINGER
---
— ADVERTISEMENT —
PAID FOR BY FRIENDS OF DAVE GROSS
---
— ADVERTISEMENT —
PAID FOR BY MICHAEL DOUGHERTY FOR DISTRICT ATTORNEY
---
— ADVERTISEMENT —
PAID FOR BY CAMPAIGN PRODUCTS OF THE ROCKIES
---
heartfelt thanks to our sponsors
Your donations help us do the work we do, from office space and supplies, to our robust Get Out the Vote efforts, to our Rockstar Latinx Outreach Directors, to media communications, to the production of our BCDP Voter Guide, with over 80,000 of those guides dropped or mailed to neighborhoods all over Boulder County each election. This means a lot to us, especially as we navigate the Covid19 environment, and how that shapes getting out the 2020 vote, but WE STAND READY AND INSPIRED...THANK YOU!
CHAMPION SPONSORS — $2,000+
Jessica and Matt Benjamin 
Edie Hooton, State Representative, HD10 
Bill Hyde 
OBAMA SPONSORS — $1,000+ 
Michael Dougherty, District Attorney
Alexandra Fischer
Virginia Gebhart 
Sonya Jaquez Lewis, State Representative, HD12, Candidate for Colorado Senate District 17 
Diane Rosenthal 
Linda Shoemaker, CU Regent 
Ruth Wright 
FDR SPONSORS — $500+ 
Judy Amabile, Candidate for House District 13
Richard Collins and Judy Reid
Christina Craigo 
Julie Dadone 
Pat Feeser 
Stan Gelb
Alyson Gould and Derek Leopold
Dan Gould and Kay Meyer
William Hamilton
Josie and Rollie Heath
Warren M. Hern MD 
Chris Hoffman and Susan Secord  
Marilyn Hughes 
Cathy and David James 
Claire Levy, Candidate for County Commissioner 
Christina Marquis, Boulder Valley Board of Education 
Britta Singer 
Carol Teal 
Beth Utton 
Terrye and Tom Whitaker 
JFK SPONSORS — $250+ 
Heather Beadle 
KC Becker, Speaker of the House, House District 13
Cynthia Braddock, Boulder County Assessor
Aaron Brockett, Boulder City Council 
Carol Byerly 
Diane Carr 
Linnea Carter 
Kathy Clark 
Pat Davis 
Stanley Deetz 
Gwen Farnsworth  
Neil Fishman 
Lenore Fox 
JD Gleitz and Shari Malloy
Lynn Guissinger, RTD Director, District O 
Mike Hart 
Carleton Howard 
Tim Howard 
Elise Jones, Boulder County Commissioner 
Suzanne Jones 
Pam and Rainer Malzbender 
Richard Marsh 
Marcia Martin, Longmont City Council  
Isaac McCorkle, Candidate for CD 4 
Karen McCormick, Candidate for House District 11 
Bob Morehouse 
Susan Osborne 
Joe Pelle, Boulder County Sheriff and Stephanie Pelle 
Dee Perry 
Carol Semple 
Jason Sherry 
Lesley Smith, CU Regent 
Ron Weaver and Linda Schmatz-Weaver
---
ANOTHER GREAT WAY TO GIVE: Consider a monthly donation of $10 a month! It's easy and the best way to invest in one of the finest field teams in the state, helping voters to vote BLUE on every part of their ballot! donate to the bcdp
---
— ADVERTISEMENT —
PAID FOR BY YOUR BOULDER COUNTY ELECTED OFFICIALS
---
TRUMAN FUNDRAISING TEAM:
Jake Marsing, Carol Teal, Julie Dadone, Barbara Butterworth 
CANDIDATES AND ELECTED DEMOCRATS:
Terrye Whitaker 
LOGISTICS AND IT:
Jason Sherry, Susan Winter, Judi Bodinger  
AWARDS:
Mariel Kramer 
VIP RECEPTION: 
Charlotte Pitts 
AD MANAGER AND GRAPHIC DESIGNER:
Marisa Dirks 
MERCHANDISE:
Barbara Butterworth
---
Technical Issues? Call the Help Desk: (720) 647-5720‬
---
   VOLUNTEER  PRECINCT LOOKUP
PAID FOR BY THE BCDP FIELD TEAM
---
"Republicans approve of the American farmer, but they are willing to help him go broke. They stand four-square for the American home — but not for housing. They are strong for labor — but they are stronger for restricting labor's rights. They favor minimum wage — the smaller the minimum wage the better. They endorse educational opportunity for all — but they won't spend money for teachers or for schools. They think modern medical care and hospitals are fine — for people who can afford them. They consider electrical power a great blessing — but only when the private power companies get their rake-off. They think the American standard of living is a fine thing — so long as it doesn't spread to all the people. And they admire the Government of the United States so much that they would like to buy it." — HARRY S. TRUMAN
---
CATALOG   LADIES T   COVID MASK   MENS T   HATS   TRUMPSTER "T"