...your "scrollable" program for the 2023 Champions of Democracy, — our 48th Annual Fundraising Event, held on Sunday, June 11, 2023, at Nissi's Entertainment & Event Venue in Lafayette, Colorado.
We want to thank all the attendees, as well as our sponsors, for their generosity!
Thank you for purchasing Champions Ads!
YOUR SUPPORT helps us do the critical GOTV work that we do: the BCDP Voter Guide (printed and online), Vote Notes, text outreach and other materials for our precinct leaders, area coordinators, and our many volunteers, communications to our large list of subscribers, voter education, support for our amazing Outreach and Inclusion Directors and Civic Engagement Leaders — and so much more.
THANK YOU!
Scroll down, and you'll find the agenda, ads from stellar Democratic candidates and electeds, profiles of our 2023 Awardees, and more. 
Our tradition continues... ENJOY!
---
KEYNOTE SPEAKER:
Representative FOR Florida's 10th Congressional District
Maxwell Frost

Elected at age 25, taking office last January as the nation's youngest congressperson, Maxwell Frost is a full-on rising star...

AN ACCOMPLISHED POLITICIAN, ACTIVIST, AND MUSICIAN, FROST has been civically engaged for over ten years, including being active with Barack Obama's 2012 presidential campaign, the American Civil Liberties Union, and as national organizing director for March for Our Lives in 2021. Frost has volunteered with the Newtown Action Alliance, which was created in response to the Sandy Hook school shooting. Frost, himself survived an incident of gun violence in 2016. In March, Frost and Senator Chris Murphy (D-Conn.) unveiled a bill that would create a federal office dedicated to gun violence protection.

The Boulder County Democratic Party happily welcomes Maxwell Frost, US Representative for Florida's 10th Congressional District, as Keynote Speaker for the 48th Annual Champions of Democracy Celebration!
---
the BCDP 48th ANNUAL FUNDRAISING CELEBRATION
FULLY & FINALLY in-Person EVENT

— agenda: SUNDAY, JUNE 11, 2023 —
5:00pm | doors open, mingle with friends

5:30 – 6:30pm | buffet
now it's time to start the show!:
6:30pm | welcome

Emcees: Katie Malzbender, Champions Fundraising Team Lead,
2012–2021 BCDP Vice Chair
and
Jonathan Singer, Champions Fundraising Team Lead,
2012-2021 State Rep. for HD11, Policy Advocate & Educator
Message from the Chair:
Amy Weinstein
Boulder County Democratic Party

---
Recognition of Electeds, Former Electeds and Legends of Democracy
Ann Stewart Zachwieja, BCDP Vice Chair Capacity
Gratitude for Sponsors
Jonathan Singer, Champions Fundraising Team Lead
•••
6:45pm | PRESENTATION OF TONIGHT'S AWARDS
2023 TOM MAYER AWARD FOR COMMUNITY SERVICE
presented by Sonia Marquez and Angel Sanchez to
 
Ray Rodriguez

---
2023 JACK MAJOR AWARD FOR EXEMPLARY BCDP VOLUNTEER
presented by Pam Malzbender to

Neil Fishman

---
2023 JOSIE HEATH AWARD FOR OUTSTANDING YOUNG DEMOCRAT
presented by Josie Heath to
JD Mangat
---
STAY TUNED: more awards — and tonight's Keynote, US REP. MAXWELL FROST after the Paddle Raise!
(Also after Paddle Raise — THANK YOU — please scroll down to read all about our stellar 2023 Champions of Democracy Awardees...they make us proud!)
• • •
7:00pm | PADDLE RAISE
with Special Guest and Emcee, 2012-2021 State Rep. for HD11,
Policy Advocate and Educator,
Jonathan Singer
with assist from Volunteer Paddle "Wranglers" at your tables

DONATE TO THE PADDLE RAISE

• • •
---
— new this year: the BCDP CHAIR'S AWARD —
for LONG-TERM SERVICE
with Special Presentation by US Representative Joe Neguse
to this year's recipient President of the Colorado Senate
Steve Fenberg
(Read more about the award, below)
• • •
Presented by last year's Champion of Democracy recipient,
and Colorado Attorney General
Phil Weiser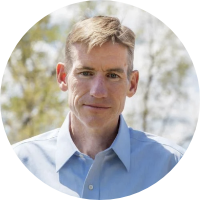 for her work as
• • •
---
7:35pm | TONIGHT'S KEYNOTE SPEAKER

Introduction:
Congressman Joe Neguse (CD2)
KEYNOTE SPEAKER:

United States Representative Maxwell Frost

• • •
Closing Remarks:
Katie Malzbender & Jonathan Singer
• • •
Keep scrolling down for more Champions content!
You'll find a message from our BCDP Chair, ads from stellar Democratic reps and sponsors, profiles of our 2023 Awardees, a list of our generous sponsors — thank you! — and more.
---
OUR ESTEEMED ELECTED OFFICIALS
Governor, Jared Polis
US Senator, Michael Bennet
US Representative, CD 2, Joe Neguse
Secretary of State, Jena Griswold
Attorney General, Phil Weiser
State Treasurer, Dave Young
Colorado Board of Education, CD 2, Angelika Schroeder
CU Regent, CD 2, Callie Rennison
CU Regent, At Large, Lesley Smith
RTD Board of Directors, District O, Lynn Guissinger
SD15 State Senator, Janice Marchman
SD17 State Senator, Sonya Jacquez Lewis
SD18 State Senator, Steve Fenberg
HD10 State Representative, Junie Joseph
HD11 State Representative, Karen McCormick
HD12 State Representative, Kyle Brown
HD19 State Representative Jennifer Parenti
HD49 State Representative, Judy Amabile
Boulder County District Attorney, Michael Dougherty
Boulder County Commissioner, Claire Levy
Boulder County Commissioner, Marta Loachamin
Boulder County Commissioner, Ashley Stolzmann
County Assessor, Cynthia Braddock
County Clerk and Recorder, Molly Fitzpatrick
County Coroner, Emma Hall
County Sheriff, Curtis Johnson
County Surveyor, Lee Stadele
County Treasurer, Paul Weissmann
---
— ADVERTISEMENT —
PAID FOR BY JOE NEGUSE FOR CONGRESS
---
From your health professionals, who are Democrats:
"Maybe our forefathers and our foremothers all came to this great land in different ships, but we're all in the same boat now." — A PHILLIP RANDOLPH

George and Jackie Antoine (LCSW designation to George or Jackie?)
Barb and Dean Beasley, M.D.
Pat Butler, Dr. P.H.
Eben Carsey
Pete and Joan Dawson

Bill Erfling, M.D. (?)
Lynn Gilbert, R.N., Ph.D.
Warren Hern, M.D., M.P.H., Ph.D.
Mark Leifeste, M.D.

Kathy and Randy Reims, M.D. (M.D. designation to Kathy or Randy?)
Carolyn and John Shepherd, M.D. (designation to whom?)
Paula Zegob-Hartman, M.D.
Wendy Zerin, M.D.

---
message from the chair AMY WEINSTEIN

Thank you all for joining us tonight to celebrate Democracy, a way of life that at its core depends on the work "of the people, by the people, and for the people." In Boulder County, "the people" are our passionate elected leaders and committed volunteers who strive every day to live our party's values.
The Preamble for the National Democratic Party Platform calls America "an idea — one that has endured and evolved through war and depression, prevailed over fascism and communism, and radiated hope to far distant corners of the earth….diversity is our greatest strength, protest one of the highest forms of patriotism and… our fates and fortunes are bound to rise and fall together."
Here in Boulder County our Platform Team, led by Mike Altenbern and Lisa Sweeney-Miran, gets to work every two years, investing countless hours. With input from party members, subject matter experts and of course, our community, they create the BCDP Platform: our statement of values to inform, educate, and activate voters, elected officials, and candidates.
The platform provides focus for BCDP activities in critical areas like Civil Liberties, Climate Change, Economic Prosperity and Social Justice, Education, Healthcare, and Immigrant Rights to list a few. But writing a document that sits on our web site is only the beginning. The challenge we all face as Democrats is taking those passionate opinions and living them as a party and as individuals. See the BCDP Platform, here.
For decades heroes have worked tirelessly to defend these progressive values. Heroes like BVSD Board of Education member Richard Garcia. A community activist since his years as a CU student, Richard has been a voice for equity and the rights of all citizens.
And, sheroes like Clela Ann Rorex, who sadly passed away a year ago, this month. Our own Boulder County Clerk, Clela issued our country's very first same-sex marriage license in 1975.
Tonight, we will spotlight the Champions of Democracy who are continuing the work as they put our party platform into action each and every day. They are our local heroes, reversing injustices, opening the doors of opportunity for all Americans, and righting wrongs. Their work has protected our ideals, helping Boulder County, Colorado, and the nation, forge a stronger, brighter, and more equitable future. They are local citizens, elected leaders, champions, helping our nation rise into the twenty-first century. They are all of you... making a difference for Democracy.
Thank you all for being here tonight and thank you for everything you do to make the Boulder County Democratic Party the values-driven, Democratic powerhouse it is. Let's get started!
— AMY WEINSTEIN, Chair of the Boulder County Democratic Party
---
— ADVERTISEMENT —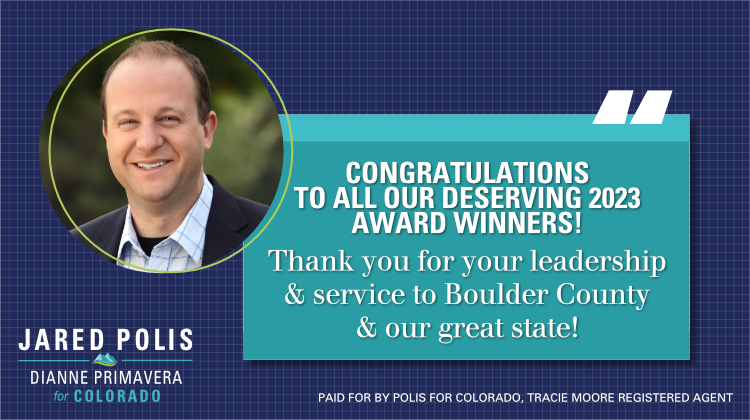 PAID FOR BY POLIS FOR COLORADO, TRACIE MOORE REGISTERED AGENT

---
THE TOM MAYER AWARD FOR COMMUNITY SERVICE is given each year in memory of former County Senator Mark Udall once described Tom Mayer as a volunteer "with a big heart and never-ending compassion,... timelessly fighting for the underprivileged . . . (and making) Boulder County a better place for all of us."

THE 2023 TOM MAYER AWARDEE: Ray Rodriguez

RAY RODRIGUEZ IS A STRONG VOICE FOR THE LATINO COMMUNITY and other underrepresented members of Boulder County, working passionately to build an equitable community. As a Boulder County Democrat, he has been a Precinct Leader since 2009. He is a BCDP Civic Engagement Leader, appearing in the Outreach and Inclusion Team's "Why We Vote" video, produced during the 2020 election to encourage voter registration. Ray is a former Out Boulder County board member, Chair of OBC's QTPOC (Queer Trans People of Color) Committee, a board member of CLLARO (Colorado Latino leadership, Advocacy & Research), and member of the Community Foundation of Boulder County Open Door Fund Grants Committee for the past 4 years. Most recently Ray has been working tirelessly as the Treasurer of Longmont Latinx Voices, an organization providing promising St. Vrain Schools Latinx students with scholarships for post-secondary education. Ray is a staunch community advocate championing Democracy through his compassion, vision and unwavering commitment to his community. — Congratulations, Ray!
---
— ADVERTISEMENT —

PAID FOR BY JENA FOR COLORADO

---
— ADVERTISEMENT —
PAID FOR BY MICHAEL DOUGHERTY FOR DISTRICT ATTORNEY

---
our 2023 champions award recipients continued
---
THE JACK MAJOR AWARD for Exemplary BCDP Volunteer recognizes years of commitment to the Boulder County Democratic Party. A beloved and respected professor of English literature at CU Boulder through the late 90's, Major, a steadfast volunteer, helped to build the Boulder County Democratic Party by building it from a minority to the strong majority that we are today.

2023 JACK MAJOR AWARDEE FOR COMMUNITY SERVICE: Neil Fishman

THIS YEAR'S RECIPIENT IS NEIL FISHMAN, a tireless BCDP volunteer for the last 25 years. A Champion of our party, Neil has been working selflessly to increase voter engagement to protect fair and just representation. He has been and continues as a Precinct Leader, an Area Coordinator, the HD13 and HD 49 Chair and a State Central Committee Member. Whether by going door-to-door, organizing local events, hosting a precinct potluck, Neil is always there championing our Democratic values, fighting for equity, voter protections, education and civil liberties.
Co-Team Lead for our Outreach and Inclusion Team since 2019, Neil's passion is to ensure everyone has a voice regardless of their gender, sexual orientation, race, or economic circumstances. To that end he has supported OIT projects like the BIPOC Rising Training, our COVID clinic and Register Renters campaign just to name a few.
In addition to his party commitments, Neil served as both Treasurer and President of the board of the Boulder County AIDS Project between 1985 and 1990. He also served, from 1998-2000, on the organizing committee for the City of Boulder's Program Valuing Diversity. He served on the University of Colorado's Blue-Ribbon Commission on Diversity in 2006 and serves on Out Boulder County's Development Committee in 2021 and at present is chair of their Advocacy and Public Policy Committee.
We are grateful to Neil Fishman for his commitment to our BCDP values.
— Congratulations Neil!
---
— ADVERTISEMENT —
PAID FOR BY JUNIE JOSEPH. REGISTERED AGENT JUNIE JOSEPH

---
— ADVERTISEMENT —
PAID FOR BY KARENFORCO
---
our 2023 champions award recipients continued
---
THE JOSIE HEATH AWARD FOR OUTSTANDING YOUNG DEMOCRAT honors Josie Heath, a community activist, educator, political contender and yes, even a long time precinct leader, Josie is committed to improving the quality of life of Colorado citizens. She was Boulder County Commissioner from 1982-1990, Democratic nominee for the U.S. Senate in 1990 and 1992 and is, perhaps, best known for leadership as President of the Community Foundation serving Boulder County. Josie explains: "We just need to keep focused on the positive things, keep taking the risks to be pacesetters. I'm sure new folks will bring fresh ideas."
THE 2023 JOSIE HEATH OUTSTANDING YOUNG DEMOCRAT AWARDEE:  JD Mangat
WHAT BETTER WAY TO BRING FRESH IDEAS THAN THROUGH YOUNG DEMOCRATS LIKE JD MANGAT, our 2023 award recipient, who is a pacesetter, defending our Democratic vision and bringing fresh ideas? JD is a young Democrat who personifies Josie's vision for Democracy.
Currently Mayor of Lafayette, he is an activist, educator and political contender, first elected in 2018 he became the city's youngest-ever council member and then in 2021, elected as the city's youngest mayor at the age of 26. He is a champion of equity through affordable housing, smart growth, environmental sustainability and youth involvement! JD has supported the BCDP as one of the co-creators and implementors of our BIPOC Rising Program, a partner in OIT's COVID vaccination clinic and as in EC member.
JD is a graduate from the University of Colorado Boulder at the Leeds School of Business.After graduating, he began working as a history teacher at Angevine Middle School, where he supports local youth, inspiring them to get involved in their community. He has helped connect youth to free after school activities, supported the development of ethnic study courses city wide, eliminated costs to city recreation and library services, to list a few.
JD is the son of Indian immigrants who moved to the U.S.A from Ludhiana, Punjab, and we are inspired by his commitment to the future. — Congratulations, JD!
---
— ADVERTISEMENT —
PAID FOR BY AMY WEINSTEIN
---
— ADVERTISEMENT —
PAID FOR BY CALLIE RENNISON

---
— ADVERTISEMENT —
PAID FOR BY ELECT JUDY AMABILE

---
— new this year —
THE 2023 2023 BCDP CHAIR'S AWARD FOR LONG-TERM SERVICE RECOGNIZES: Steve Fenberg

A DEMOCRACY CHAMPION WHO, as Colorado State Senator, then Democratic Majority Leader and currently, President of the Colorado Senate, Steve Fenberg has represented Senate District 18 and the Boulder Democratic Party with an unwavering commitment to democratic values.
Steve Fenberg has always been a visionary leader even before walking on our state house floor. He was elected as a Representative-at-Large for the University of Colorado Student Union as a freshman. Later he joined the CU Student Union Executive Staff as the Director of Capital Construction and implemented new and innovative labor and environment standards for student-funded construction projects. As a student he was always raising voices, organizing debates and speakers, creating opportunities for campus discussion around issues such as academic freedom, native American land rights and labor issues. In 2006 Steve served on the CU President's Blue Ribbon Commission on Diversity.
As the founder and Executive Director for New Era Colorado, which since 2006 has registered nearly 200,000 young people to vote in our state, he was driven by the premise that "democracy works better when more people show up" ... and show up he has.
Steve has protected our Democratic priorities by putting forward legislation that embodies our party's values. He defends the economic, moral, and environmental ramifications of climate change, working to ensure that Colorado is prepared to combat possible future fires, and he is supporting Coloradans as they rebuild and recover from past climate disasters.
Steve is helping to ensure a vibrant democracy by improving our public education system and ensuring healthcare for everyone and sponsoring and passed meaningful gun legislation to keep our communities safe from gun violence. He is committed to a life of dignity and respect for every Coloradan, regardless of their gender, sexual orientation, race, or economic circumstances as is evidenced in his sponsorship and support of a wide range of legislation to create a more fair, just, and equal state for everyone.
Finally, it is thanks to Steve's leadership that Colorado leads in protecting reproductive freedoms with the passage of the Reproductive Health Equity Act, codifying the right to abortion in Colorado state law. We congratulate Steve Fenberg on his years of commitment and dedication to democracy.

— Congratulations, Senator Fenberg!
---
— ADVERTISEMENT —
PAID FOR BY AARON BROCKETT AND CHERRY ANDERSON

---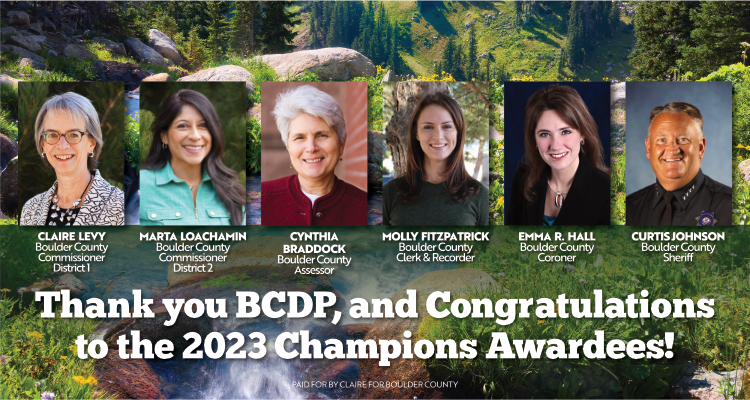 PAID FOR BY CLAIRE FOR BOULDER COUNTY

---
 — our 2023 —

award recipients
---
THE 2023 CHAMPIONS OF DEMOCRACY AWARD recognizes community members who are living our party's values and thereby protecting Democracy. 
THE 2023 CHAMPIONS OF DEMOCRACY AWARDEES: Michael Dougherty & Elaina Shively

TONIGHT WE HONOR Boulder County District Attorney Michael Dougherty and Elaina Shively, past-Director of, for their commitment to restorative justice. We recognize their groundbreaking work, to quote our 2022 BCDP County Platform applies the "highest standards of fairness and humanity" and "enforces the law and thereby protect citizens." We applaud their programs which apply "a balanced approach to justice," and "seek to restore the victim, the community, and the offender while holding the offender accountable and responsible."
Under the guidance of reform-minded leaders like Michael and Elaina, restorative justice is a reality in Boulder County. They have directed the creation of The Center for Prevention and Restorative Justice (CPRJ) in the Boulder District Attorney's Office offering a range of diversionary programs for adults and juveniles. It provides an alternative to prosecution in appropriate cases, as well as a specialized Mental Health Diversion Program to divert eligible participants directly into treatment. CPRJ's restorative diversion model uses diversion services and restorative practices to address underlying needs, hold participants meaningfully accountable, meet victims' needs, repair harm from the crime, and support community reintegration.We honor Michael and Elaina as Champions of Democracy; their vision and hard work have made our Boulder DA's Office one of the first district attorney's offices in the country to create an in-house restorative justice program and a national leader in "smart" criminal justice reform. They have set a new standard, not just in Colorado, but around the nation.
— Congratulations, Michael and Elaina!
---
— ADVERTISEMENT —
PAID FOR BY FENBERG FOR SENATE
---
— ADVERTISEMENT —
PAID FOR BY SONYA FOR COLORADO

---
— ADVERTISEMENT —
PAID FOR BY LESLEY SMITH

---
heartfelt thanks to our sponsors
Your donations help us do the work we do, from office space and supplies, to our robust Get Out the Vote efforts, to our Rockstar Latinx Outreach Directors, to media communications, to the production of our BCDP Voter Guide, with over 80,000 of those guides dropped or mailed to neighborhoods all over Boulder County each election. No doubt about it — our democracy is at risk — and the best way to protect it is ENGAGEMENT and TURNOUT! WE STAND READY AND INSPIRED...THANK YOU!
TABLE SPONSORS — $3,000

Michael Dougherty, Boulder County District Attorney
Garnett, Powell, Maximon and Barlow, LLC 
Joe Neguse, US Congress
Boulder County Democratic Legislative Delegation: Senators Steve Fenberg, President of the Senate; Sonya Jaquez Lewis; Janice Marchman; Representatives Judy Amabile; Karen McCormick; Junie Joseph; Jennifer Parenti; Kyle Brown
TABLE SPONSORS — $2,500
Matthew Benjamin, Boulder City Council, and Jessica Benjamin
Democratic Mayors Table: Aaron Brockett, Mayor of Boulder, hosting.
CU Regents Table: Lesley Smith, University of Colorado Regent, Callie Rennison, University of Colorado Regent, Linda Shoemaker, former University of Colorado Regent
Nancy Whiteman, CEO Wana Brands
TABLE SPONSORS — $2,000
Edie Hooton, Former Colorado House of Representatives
OBAMA SPONSORS — $1,000+
Julie Dadone
Steve Fenberg, President of the Colorado Senate
Bill Hyde
Dee Perry 
Diane Rosenthal
FDR SPONSORS — $500+
Christina Craigo
Democratic Women of Boulder County
Heather Beadle
Cynthia Braddock, Boulder County Assessor
Karen and Don Brown
Patricia Feeser
Audrey and Andrew Franklin
Therese Glowacki
Jena Griswold, Colorado Secretary of State
Josie and Rollie Heath 
Marilyn and David Hughes
Curtis Johnson, Boulder County Sheriff 
Junie Joseph, Colorado Representative
Lisa Lesniak, President of Democratic Women of Boulder County 
Rich and Kay Marsh
Carol Teal and Bill Wilson
Amy Weinstein
---
ANOTHER GREAT WAY TO GIVE: Consider a monthly donation of $10 a month! It's easy and the best way to invest in one of the finest field teams in the state, helping voters to vote BLUE on every part of their ballot! donate to the bcdp
---

Remembering our first time...
THE FIRST BOULDER COUNTY DEMOCRATIC PARTY TRUMAN DINNER was held on February 13, 1976, in the "Memorial Center Ballroom" at CU. Rumor has it there were 500 in attendance, but we don't know what the menu was.
We're guessing chicken.
In 1976, Dickey Lee Hullinghorst served as our party chair. Dickey Lee and the previous chair, Ron Stewart, decided to have an annual event, calling it the Truman Dinner.
Dickey Lee and a lot of good Democratic volunteers made it a reality. Senator Gary Hart, who had recently been elected in 1974, helped secure George McGovern (shown here, with Dickie Lee at our first Truman Dinner in 1976), South Dakota Senator, and our Presidential candidate in 1972, as the first keynote speaker. McGovern gave the audience a glimpse of what the country may have looked like if he had triumphed over Richard Nixon.
That first Truman Dinner boasted some local Colorado celebrities, too. Among them were newly elected Governor Dick Lamm and Congressman Tim Wirth, along with Lt. Governor George Brown and Attorney General J. D. MacFarlane. Some names from the 1976 Truman Dinner team are familiar to us today: along with Dickey Lee and Ron, there's Charlotte Houston, Barbara Lamm, and Linda Flack.
Just like in 1976, this event is only made possible by the many volunteers who help plan and organize it. We thank Dickey Lee and Ron for getting it started, and every volunteer since then, for keeping it going.
— This engaging piece of history was written by Candace Bowie, in 2015, the same year that Dickie Lee Hullinghorst was Colorado Speaker of the House, and as we celebrated the 40th anniversary of the Truman Dinner. Candace was a valued member of the BCDP Field Team, but also worked many years on the organizing of the Truman Celebration and continues to be an active and cherished member of the BoCoDem community. We hope that as we usher in the new era of the Champions of Democracy Celebration — virtual today, but hopefully in person next year — that we do Candace, Dickie Lee, and the countless volunteers who came before us — proud. And in the process, perhaps get a wink from Harry Truman himself!

---
---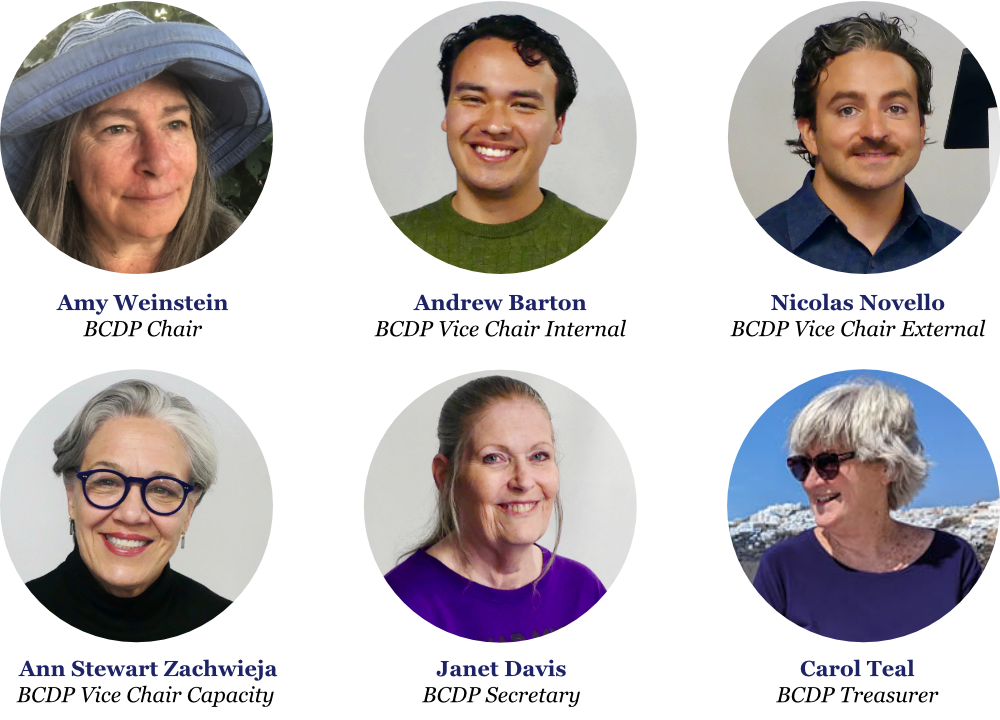 ---
2023 Champions Team

---
CHAMPIONS TEAM CO-LEADS:
Judi Bodinger, Pam Malzbender, & Carol Teal
FUNDRAISING & COMMUNICATIONS:
Katie Malzbender, Carol Teal, Judi Bodinger, & Jim Johnson

AWARDS:
Patricia Feeser
PADDLE RAISE:
Jonathan Singer
STAGE MANAGEMENT:
Pam Malzbender
REGISTRATION:
Judi Bodinger

AD MANAGER AND GRAPHIC DESIGNER:
Marisa Dirks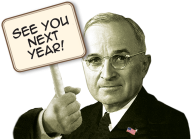 ---
"I should like to talk to you briefly about civil rights and human freedom. It is my deep conviction that we have reached a turning point in the long history of our country's efforts to guarantee freedom and equality to all our citizens. Recent events in the United States and abroad have made us realize that it is more important today than ever before to ensure that all Americans enjoy these rights. … [And] When I say all Americans, I mean all Americans...
"We cannot be content with a civil liberties program which emphasizes only the need of protection against the possibility of tyranny by the government," Truman continued. "We cannot stop there...
"Our immediate task is to remove the last remnants of the barriers which stand between millions of our citizens and their birthright. There is no justifiable reason for discrimination because of ancestry, or religion, or race, or color.
"We must not tolerate such limitations on the freedom of any of our people and on their enjoyment of basic rights which every citizen in a truly democratic society must possess. Every man should have the right to a decent home, the right to an education, the right to adequate medical care, the right to a worthwhile job, the right to an equal share in making the public decisions through the ballot, and the right to a fair trial in a fair court. We must ensure that these rights — on equal terms — are enjoyed by every citizen. To these principles I pledge my full and continued support.
"Many of our people still suffer the indignity of insult, the harrowing fear of intimidation, and, I regret to say, the threat of physical injury and mob violence. Prejudice and intolerance in which these evils are rooted still exist. The conscience of our nation, and the legal machinery which enforces it, have not yet secured to each citizen full freedom from fear."
— HARRY S. TRUMAN, JUNE 29, 1947

---